For some time, we have been amidst a culture where learning from home is becoming more common. While I appreciate learning from the comfort of my own home, the socialization piece and interaction that we get with actually connecting in person can never truly be replaced by technology. However, when schools are faced to close but still anticipated to keep students engaged in learning, teachers can continue to be highly effective in a virtual setting.
Great teachers ARE great teachers- no matter what! 
Like many of us, we are in preparation mode of what school may look like from a virtual platform. Bloggers such as Martina Bex (@MartinaBex, The Comprehensible Classroom,  SOMOS) and Samara Spielberg (@SamaraSpielberg) have started to spin their wheels and share with our online #langchat community.
Martina has shared a recent blog post titled, "Lesson plans for COVID-19 school closure / 10+ days of Spanish " where a Spanish teacher can download a ten-day outline for their classes while Samara has put together a GoogleSlides presentation via Twitter outlining an opportunity to create an activity portfolio by earning points!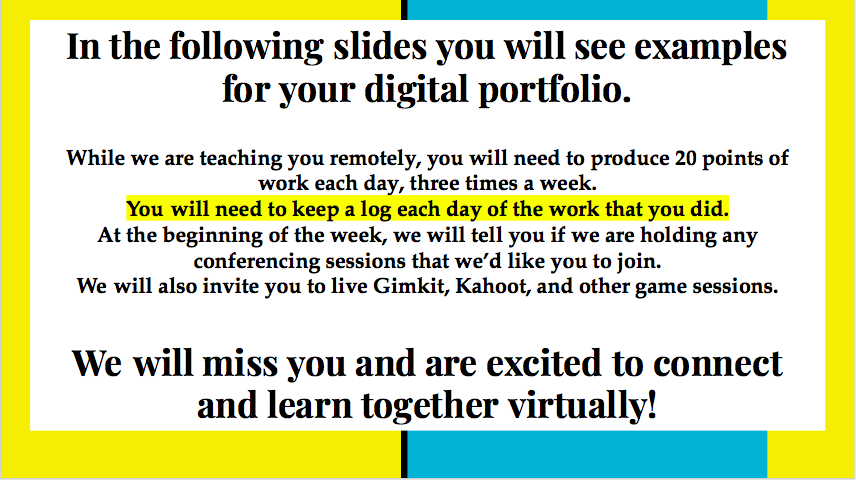 Thanks to them, I was inspired to create this presentation to highlight both synchronous & asynchronous opportunities to use technology with students.
In both 2014 and 2016, my district (@pvrhsd Pascack Valley Regional HS District) held classes virtually. Dr. Barry Bachenheimer (@drbachenheimer) and I presented about the PVR Virtual Day and our reflections on moving forward.
In 2016, the district elected to take two virtual days on Feb 2nd & Feb 3rd in between semesters. Here is an outline of what the creative teachers throughout the Family & Consumer Science, Music and World Languages department organized for students learning from home.
I've also conducted online World Language Methodology courses both synchronously and asynchronously throughout different semesters when teaching at Rutgers, The Graduate School of Education in New Brunswick, NJ. Here were some of my "virtual" classes using Google Slides. (Spring 2017 // Spring 2019)
Although school may not in session, the goal should continue to be an immersion of comprehensible input for students. Whether you locate the resources or create short videos/readings, students should still engage their brains in the target language for at least ten to fifteen each day and provide feedback to the teacher that they understood.
For World Language teachers, some general ideas for several weeks of a school closure:
Viewing a Show/Series or Listening to Podcast Channel: Whether you've located an amazing video series or a podcast channel, students can continue listening to the target language at either novice-intermediate-advanced levels. As their teacher, you know what students can handle with independence, therefore, similar to how we select novels ("easier" is always better!)- 90% of what they are listening to/watching should be understood. The activities selected to share how well they understood what they heard/watched can be tailored to their level through "choice boards".
Authentic Videos         Videos for Children.       We Listen.
Let's Read! Select either a whole class reader or select their own reader of choice (Free Voluntary Reading). Each day, students provide a summarization of each chapter through a written discussion post using Canvas, Google Doc, Padlet OR a video summarization through FlipGrid or Extempore. If novice students are unable to share a spoken or written summarization, students can create a visual depiction of the beginning-middle-end of the chapter and upload a photo to Google Slides or their individual Padlet space. 
As of March 10th*, I created a generic reading log for chapters 1-6 of any reader. You can view the presentation/make a copy here. Please modify to better suit your students & their reading level. I hope this helps in your planning & preparation! 
Readers from Fluency Matters, TPRS Books            Children's Stories
Research, Reflect, Respond! Consider using the United Nation's 17 Global Goals for Sustainable Development and a Project-Based Learning model with students- engaging them in solving a real-world problem or answering a complex question. Students can decide in advance which topic is of most importance to them and opt to work collaboratively with their peers in small groups, partnerships or on their own. Either way, they can log their progress with researching the issue, reflecting on possible solutions and then using a collaborative platform to share their thoughts/responses to the problem. 
World's Largest Lesson.      Social Justice Standards.      PBL Works.
Laura Sexton's PBL in the TL Blog (@SraSpanglish) 
I hope that this blog is helpful for those of you who are exploring ways to transform your physical classrooms into new virtual spaces with potential school closures. Should you have any questions about any of the technology tools, ideas or information highlighted, please reach out. We are all here to support one another and work together! 
@SrtaNRodriguez   //  nrodriguez@pascack.org //  srta.nrodriguez@gmail.com